Goku-
The series Dragonball/Z/GT revolves around the life of Son Goku. As a child, Goku was sent to Earth to take it over. But he bumped his head as a baby and forgot the reason he came to Earth. He was found by his future adoptive father Son Gohan. When Goku grew up he befriended Bulma Briefs. And that is where Dragonball begins. Together, they search for the Dragonballs. As Goku grows up, he is trained by Master Roshi, Kami (Gurdian of the Earth), and King Kai. Goku meets his best friend Krillin when training with Master Roshi. On the Planet Namek, Goku became the legendary Super Saiyain. Since then, Goku has mastered all the levels of a Super Saiyan. Goku is one of the 4 remaining Saiyans:Vegita, Goku, Nappa, and Brolly. Goku can usually be seen in his orange and blue gi (outfit). Goku is probably the most powerful person in the universe.


Vegeta-
Even though he is evil at heart, Vegeta is perhaps one of the most strong-willed characters in the series. Like Son Goku, he is extremely industrious, constantly striving to be better, but different purposes drove Vegeta's spirit. Goku fought to defend the lives and others and to challenge his limitations while Vegeta fought to satisfy his bloodthirsty appetite and die hard pride, which is unwilling to accept defeat. This gradually changes throughout the series.


Gohan-
Gohan is the brother of Goten and Goku's first son. He is half Saiyan, half earthling. As a child, he is trained by Piccolo, his Namek friend, and eventually grows up to be the trainer of Trunks. He always fights his hardest and when someone hurts one of his friends or family members, he uncovers hidden strength. As a boy his mother wants him to be a scholar, and makes sure he gets his reading and studies done, but often times Gohan escapes to party with his childhood best friend Krillin or to take part in a fight. When he becomes an upper teen, he makes up a secret identity called "Great Saiya-Man" which he uses when fights crime (but his secret is revealed in the Tenka-Ichi-Budoukai Saga). Also during his college/upper teen years he meets his soon to be wife Videl, who is Mr. Satans daughter. They go off and get married and have a child, and she becomes "Great Saiya-Man #2" as they fight crime and evil together. They have a child named Pan who shows up mostly in GT. He becomes a scholar in GT and somehow gets his ability to turn Super Saiyan back.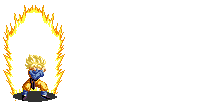 Goten-
Basically a carbon copy of his Father, Gokou. Goten is son Gokou's second child. He, like Gohan, begins more powerful then his father was when he was a child. Unlike Gohan, Goten trains instead of studying. Because Gokou was killed in the cell saga, Goten doesn't meet his father until he's 7. At the age of 7, he also achieves super saiya-jin much to the dismay of his older brother. Goten also knows the kamehameha wave, but because he's so naive, he mispronounces it "Kamekameha." Goten is always seen with his best friend Trunks, Vegitas son. Later on in the series they learn how to fuse into Gotenks. Goten is like Gokou with the fact that he is VERY naive, and always wants to either train or eat. When Goten is a teenager, he turns out to look nothing like Gokou.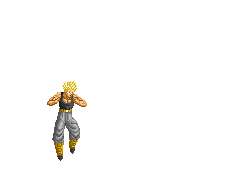 Trunks-
Trunks is the first child of Vegeta and Bulma. Future(or Mirai) Trunks comes from a parallel universe 14 years in the future where Androids 17 and 18 rule the Earth. Everyone is being put to death by the Androids. He goes back in time in a Time Capsule made by his mother, Bumla. He finally meets up with Frieza and kills him with ease. He warns the Z Warriors about the comming of the Androids, so they can prepare and train. And so not to prevent his own birth, he tells no one of his heritage except Goku. Chibi Trunks is born a few years after Mirai Trunks' comming. Chibi Trunks likes to hang out with Goten as they are very good friends. When he and Goten are together, he has a tendency to get in trouble. Trunks has purple hair and displays extreme levels of power, he reaches Super Saiya-jin when he is eight. Despite Trunks' ability to get Goten and himself in trouble, he means well.